The Best Evening Ensemble Worth Making Plans For!
Yes, it may seem very tempting end the week in jogging pants and ordering in all the food you've been craving for. But where's the fun that? It's best to get out of your shell and celebrate a weekend night with style! When attending formal events or going out for the evening, you must have the perfect outfit to match. So if you are looking for a great outfit, make sure it's one that has you looking stylish and elegant for the evening. We've got the ensemble just for you!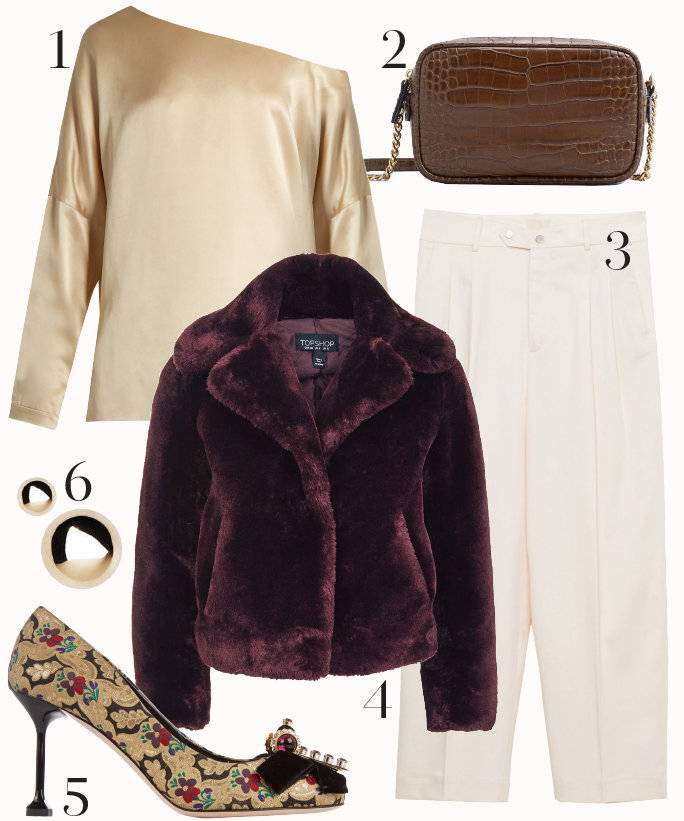 - Tibi Top
Gold is classy, gold is elegant. And with the perfect gold off-shoulder top, you'll not only exude all those, but you will also have that flirty edge by showing a bit of skin by your sides. Let the satin feel nice around your upper body and the gold top turning heads.
Who said clutches were the staple bag of all evening outfits? This cross body bag is just what you need when you're too lazy to keep holding a clutch! The leather body and gold chain will match the gold and creamy white outfit. And, it can fit your small essentials with ease.
These trousers won't exactly show those legs off like the usual cocktail dress, but they definitely exude class! The creamy white color matches just about anything, from a tight top to satin blouses. The looseness and length makes your legs longer as well.
Soft and velvet-colored, this Topshop coat won't only keep you warm, but it will also have you looking luxurious as well. It puts a little color to the neutrality of your outfit, making you the star of the night no matter. Plus, it makes for a great warmer when walking around the busy city at night.
Add a little pattern and print into your outfit with these classy pumps. With th e floral and regal pattern, you'll definitely feel like a queen donning the night in the perfect pair of heels. The gem near the toes puts the touch of class you want to show.
Necklaces and bracelets just won't do when you'll be covered up, but you need the perfect accessory to complete the outfit. Let these gold and black earrings from Gabriel Artigas help you out.
Don't go for the usual cocktail dress and try this classy look. Not only will you look luxurious and classy, but the simple gold and white neutral colors will have you turn eyes without the need for flashy glitter. You'll steal the event's attention with this outfit! Feel like dressing up and going out for the night now? Go for it, you deserve it that night out!